Youbionic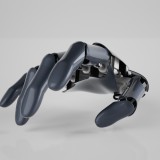 We are ready to show you the future of Bionic technology. Our team works hard every day and it makes experimentation in order to achieve innovative solutions that return results ever seen to date.
The aim of our research is to be able to make a Artificial Hand that can help those who unfortunately have lost one, giving them the ability to perform the basic actions of every day.
We want to get what I described but at a price lower than the market today, we want our product to be appealing to as many people as possible.
The passion about these technologies and the knowledge that our efforts will, even if only in part, can help someone, drive us to study and encourage us to always improve.